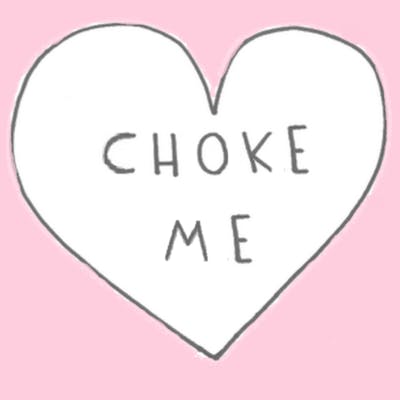 My Mouth Runneth Over
A Sexual Fantasy
My lover has shown me things I never knew I wanted. He shocks and surprises me with something new every time we meet. He is dominant and verbal. Telling me what to do and how to do it. Our last encounter went like this:
Not 20 seconds after I shut the door behind me, our bodies were locked together. In between deep, hungry kisses he asks "why are my pants still on?"
I quickly unbuckle, pull them off, and push him down in the chair and drop to my knees. I smile as I tie my hair back, determined to give him my best yet. I get a tight suck right off the bat. Remembering from previous lessons, I stroke, not so gently, and I hear the groan rise from his chest to his throat. "Fuck" he breaths.
I know he is pleased so far. He takes my ponytail and wraps it tightly around one hand and holds my head and proceeds to skull fuck me. Then, coming as a shock to me, he forces my head down until his head reaches the back of my throat and I quietly gag and pull up. Inhaling and whispering his name on my exhale, but never opening my watery eyes, my fingers dug into his thighs. I take him back into my mouth and he immediately does it again."Choke on that cock" he says.
I continue to give him pleasure despite my doubts, and then I suddenly realized why. My mouth came with a gush of warm, slippery, delicious sliquid that began running down the length of his dick and dripped down his balls. It coated my hand as I slid up and down in motion with my mouth. He gently unrolled my hair and smoothed my ponytail down my back. Then placed his hands behind his head in a triumphant pose, closed his eyes, and let me lick and suck until he added a final gush, filling my mouth once again, so I may drink.