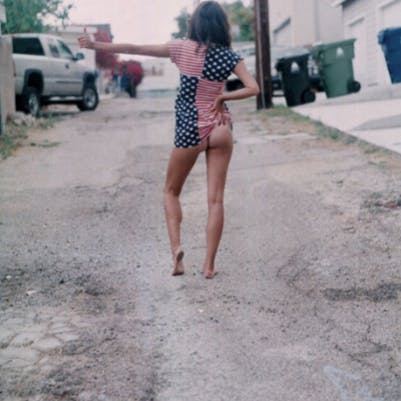 Wild sparkling night
A Sexual Fantasy
On a warm summer day, I went home by stop. While thumbing a lift I spotted a young woman not far from me wearing only a shirt and a skirt and a small backpack. She held a lettered cardboard in her hand suggesting she was heading the same direction as I did. As I'm a shy person, I didn't approach her, but after a short while she came closer and asked me to work together, searching for a car to take us.
She told me, she was from Israel and had gone by stop and cargo train all the way from there to Spain, visiting rainbow gatherings and festivals and was now heading her way back home. Looking skinny, she was a strong, cheeky and bold girl at heart who had seen much more of the world then I probably will ever see.
Arriving at my home city, she decided to stay the night with me because it was too late to advance her journey. We spent the evening together in a bar with friends of mine, talking and laughing and when we went home, she suddenly grabbed my hand for a very short thrilling moment.
I offered her a massage at home and started smoothly to caress her head and her shoulders. She turned her head a little, looked into my eyes and we started to kiss and undress each other. No underwear had covered her skin but some beautiful handmade paintings. I remember the sun rising over the sea on her back and hearts ascending from belly to breast. It got a long stormy night with no part of our bodys being uncaressed or unkissed til we finally felt asleep cuddling.
On the next day, I brought her to an advantageous place for stopping a car that would get her further. She told me that there were two possibilities to say good bye in Hebrew: "Shalom" which meant "Bye Bye" and "Lehitraot" which meant "See you again". Both of us said "Lehitraot", but I have never seen nor heard of her since. Only tiny sparkling parts of her body paint were illuminating my flat still weeks after this encounter.