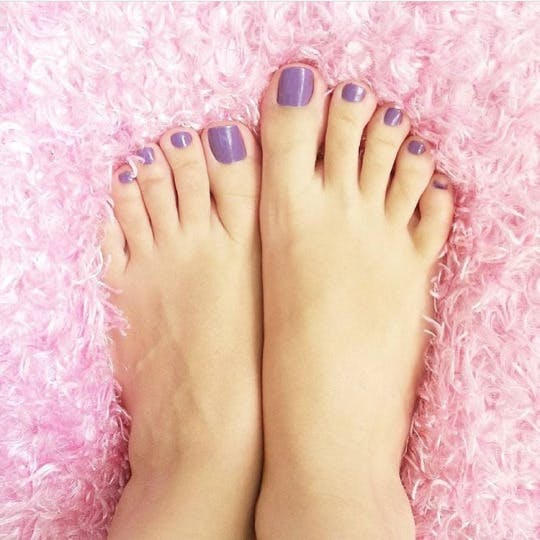 Suck Your Feet
A Sexual Fantasy
I have a foot fetish. But not that I want lo lick feet, I want my feet to be licked or I want to watch my girl lick her own feet (well tended, clean feet). Unfortenately my girl really dislikes feet, so that is never going to happen. That's why I hope you could turn my fantasy into one of your beautiful films.
We are in a spare room with no furniture but a big couch. I dream about her licking my toes gently, sucking on them as a kind of foreplay, we are both totally naked. I open my eyes and there she actually kneels before me and literally kisses my feet. I sit on the couch and challenge her to try to fit in as much as she can. She actually manages all five toes and a bit of my forefoot. I pull her up and we kiss and I thank her and ask her if she could do it again. She does so willingly.
Then we move on to missionary. I tell her that today I will only put my penis in as long as she has something in her mouth, preferably toes, maybe fingers. She starts trying to fit her own toes into her mouth, licking and caressing them. She looks at me with her mouth around one of her big toes and gently sucks on it. That's when I put it in. She likes deep, hard thrusts, so that her whole body shakes, so thats what I am giving her. After a while I ask her to try to fit her whole forefoot in her mouth. She struggles but succeeds.
From there we switch things up and I fuck her form behind. She is on her knees, her hips are high, her head on the ground, we are on the floor. At this point I am pounding her hard and deep, all the while she sucks on my big toe or tries to fit in even more of my foot. Every time she stops or doesn't have anything in her mouth I stop. She really wants me to keep going, so she quickly starts putting her fingers in her mouth. I tell her that won't do and stop. So she starts to fit in her whole fist.
When I finally cum, I cum on her feet and ask her lick them clean. She keenly licks the cum off of her feet and swallows every drop (my girl loves my sperm). We kiss and snuggle on to the couch, exhausted but satisfied.