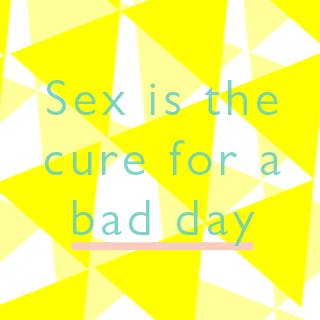 Sex Is the Cure for a Bad Day
A Sexual Fantasy
It had been a quiet and slightly disappointing Saturday. I had gone out with a girl and we made a last minute decision to going to a movie; the film was great, but so depressing that there was no way you could then suggest "lets go to my place". So we called it a night. I was back home by midnight and after reading a bit and writing a couple of emails I was going to bed at 3am thinking all in all it had been an okay day, when I hear this big noise outside.
My flatmate's brother, who was staying with us for two nights, had gone out partying with some friends and since everything in Paris closes at 2am, they had decided to bring the party home. I debated between telling them to shut the fuck up or joining them. One glimpse of long brown curls and a tight black skirt decided it for me [yes, I'm that shallow]. I spent two hours trying to figure out which, if any, of the guys were with this girl, and trying to get something going between us. Just when I was about to give up, she followed me into the kitchen. We were kissing after five minutes, and after five more we were in my room. I threw her on the bed, went under her skirt and ate her slowly and gently for a while. Things were kind of blurry after that; there was some rough play, the most amazing blowjob [she seemed to enjoy it as much as I did...] and the she rode me, whispering in my ear "I love fucking with you" just before cumming.
We were lying in bed, all energy drained and falling asleep, when she crawls next to me and snuggles. I remember thinking our bodies fit just fine, maybe even mentioning it. She gave me a kiss and sleepily, gleefully said "Your name's Darl... right?".