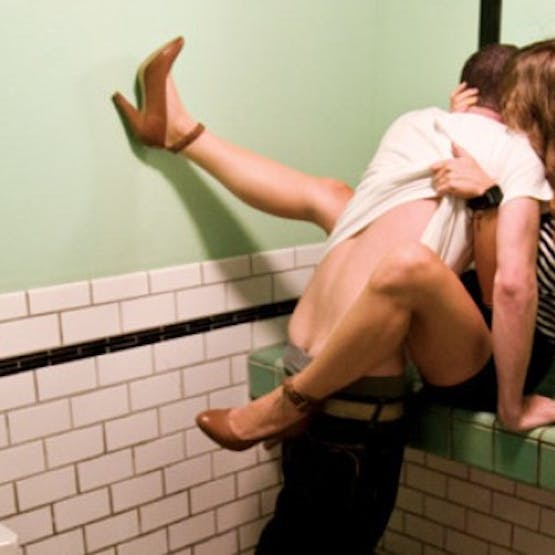 Men's room rendezvous
A Sexual Fantasy
As I´d just pulled up my zipper, she came into the men´s room, approaching me from behind. Opening my zipper again she rubbed her hand on my penis over the fabric of the boxers. I didn´t dare look behind me as her breasts pressed against my back and her lips kissed my neck.
Her hand found it´s way down into my boxers, squeezing my balls very firmly. My dick was hard almost instantly. With the other hand she just used her fingertips to gently massage the tip, very, very slowly.
I began to get dizzy so I had to grab the wall in front of me to stay up. "If you turn around, I´ll stop," she said. I obeyed. As she continued to massage my cock she whispered her phone number into my ears, before telling me what she wanted to do to me. Every explicit little detail. If I could find her in the crowded restaurant.
I was so damn horny. My dick pulsating madly, my legs beginning to shake. Seeing my excitement she started jerking me off fast and hard. Her left hand still squeezing my balls tighter to stop me from coming. I told her I couldn´t hold it any longer. So letting her grip go, my sperm shot out of my rock solid cock like a loaded gun.
I was out of breath and still dizzy. This was the most erotic and horny hand job I had ever had. It took a little while before my head was clear again. By that time she already had left the men's room.
I cleaned myself up and went back into the restaurant desperately trying to remember her phone number. I dialed it and walked across the restaurant looking left and right. After my 3rd attempt I heard a phone ringing on the bar. It had been left behind. I grabbed it seeing a text message with a winking symbol. I opened it to find it revealed her address.
I ran outside to grab a cab, shouting the address at the driver. When I reached her apartment she had left the door open. I found her laying naked on her bed. She had the most beautiful curved body. I watched as she touched herself... her fingers disappearing into her wet lips... She called me over ordering me to take off my clothes and devour her...