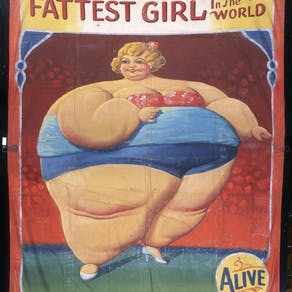 Kiss of the Donna Cannone
A Sexual Fantasy
Her life took place between the circus caravans and the cannon under the big top.
Since the appearance of my first sexual impulses I expressed a strong attraction for fat women. The desire to shake them and feel my cock sinking not in them but in the folds of their flesh excited me. And that woman I saw in the circus poster on the wall of my room had become the object of my unmentionable desires. In the drawing she was wearing a tight-fitting body with stars and stripes and a pair of blue shorts; the foot also wore blue shiny boots. I imagined her naked body under that costume; his flesh freed from captivity of that elastic fabric.
It was Christmas and the circus had come to town. Every evening, despite the cold and sometimes rain, I stopped for hours beyond the barricades to see she moving from her trailer to the big top. I think she had noticed this young admirer who agonized in the darkness of winter nights. One evening I took courage and, after seeing the show, I went to visit her on the pretext of asking for an autograph.
The caravan door opened and a beautiful face greeted me with a smile that revealed a deep melancholy. I asked her if she could sign the poster that I had brought with me and she, turning her back to me, went to the table. It was as I imagined in my erotic fantasies: under the wide transparent robe that she wore no underwear covered the beautiful folds of her back and her buttocks. I was mesmerized by the movement and even more when I sensed her breasts and her cunt: small and sweetly lying on the belly the first, the second huge and hairy.
I awoke from the stunning state I was dropped when I felt her mouth to lean on mine, her lips press mine, unfold and let her tongue squeezed in my mouth and for a time that seemed endless twirled dripping incredible smelling saliva.
"Now it's late - she told me - let's wait until tomorrow"
I spent a sleepless night thinking of the kiss full of promise of my Donna Cannone.