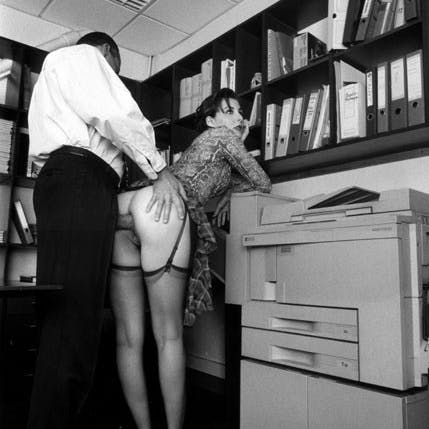 Emotions and Sex at the office!
A Sexual Fantasy
4 months ago I was fired from my old job, my boss was in love with me and I was in love with her. However, she was hesitating to show her feelings and open up to me, because she was concerned about losing her job so we never really get our relationship going. Unfortunately, this love we had, ended up interfering with our job, and things became personal, so I was fired; she knew about it and we never really told me, in fact, she hid from me when it happened and I got pissed that she didn't want to talk to me about it and just kept ignoring me, so I said, fuck that and decided to just try to move on...I haven't heard back from her ever since. While we were friends and worked together, we had an amazing time, we were becoming good friends and shared a lot of interests and had nice conversations. I'm afraid I'm still in love with her and haven't been able to forget about those days. I'm telling you this as a start so you can get in the context of my fantasy.
Her name is Esther, a beautiful name for a beautiful woman, tall but not that much, skinny but with a beautiful ass, the most perfect long black hair that I've ever seen, deep brown eyes and a perfect smile, me? Tall about 1.80, not completely fit, but at the time I was and still am going to the gym, so I have a strong physique, black hair Side-Parting style kinda short and brown eyes. Now for the good part, my fantasy started when we had a big discussion over at work, it was sort of a regular day at a regular office, about 35 people, open space, lots of windows, regular big white desks. We argued about how she wanted me to pull a report but I knew a better way of doing it, she is a very stubborn person and so am I, so none of us wanted to back down on how to pull the freaking report, silly fight I know, but it escalated quickly so she pulled me over to a conference room and see what the fuck was going on. At the time, my head was a mess, I really wanted to let her know about my feelings towards her, but didn't know how to do it, so I just kept fighting with her for no reason, I was frustrated on an emotional and sexual level as well; when she pulled me to the conference room, it was more like a training room to be honest, about 6 huge desks, a projector and a whiteboard, we started talking about my attitude and hers as well, it was a long talk, we discussed that we both had our tempers and how we needed to communicate to avoid fighting any more, we talked about how we respected each other and how I trusted her a lot. She was sad and the whole time we just kept looking at each other's eyes, I just wanted to lean towards and kiss her, let our emotions go nuts! Of course, nothing happened, the day ended and I just went home feeling empty.
When I took the bus home and this is where my fantasy really begins, I started thinking, what if, I would have kissed her, what if we would have let ourselves go wild?. So I was on the bus imagining things and getting turned on....me watching deeply into her eyes and then just kissing her passionately, grabbing her firmly, smelling her beautiful hair and touching her perfect skinny body. She was wearing a beautiful sort of translucid pink buttoned shirt, with a blue jeans and her black Vans, me a red and blue squares shirt with a white t shirt underneath, a blue jeans and the same Old Skool Pro Black Vans (the shoes are a very important detail, we both loved Vans shoes and we both had a collection of our own, besides that, I really get turned on when ladies use Vans shoes), we just kept kissing and touching each other until I grabbed her by her ass and sat her on one of the big desks, just taking her shirt off, button by button while she was touching my dick, we both moaning getting ready to fuck right next to everybody at the office!
The door was open by the way....so while she was touching my dick nice and softly, I was kissing her neck and taking her shirt and bra off, when all of these were gone, I just started kissing and licking her tits, we were not silent about it, we were just mad and horny so we didn't think about what could happen if we got busted! I just kept kissing her tits and now trying to take her pants off, but she managed to do it first, she took mine and started masturbating me, I was so hard and felt so great that I was really loud about it, then she took my flannel shirt off and started going down on me, just giving me the most perfect blowjob, softly but nicely done, really accurate with her hands and mouth I couldn't resist making noise, it was so good but I fealt selfish so I made her stop and took her pants and mine off, we were so horny that our shoes remained on, we didn't take them off, then I just pulled her down the table and on her back and said, lean forward so her ass could be just in front on me and perfect to like her pussy, I took her white panties off and started licking her legs first, from bottom up to her butt chics, her moans were so nice to hear that I just kept licking until she grabbed my head and moved it towards her pussy, I started licking and licking using my fingers and oh boy! Was she WET!
I licked her and grabbed her by her hips just eating her delicious pussy until she said "I need you inside me", so I took the rest of my clothes off, left her at that position and started fucking her from behind, first, gently getting my dick inside her, and grabbing all her body, touching her tits from behind, and we started fucking and fucking and moaning and just touching each other, she was touching my ass and I was touching her tits, grabbing her hips and legs, fucking, then she said the most beautiful words..."I want to see you", I got her on the table, open her legs and started fucking we lean just about 45% degrees, my hands on the table and started fucking again, her legs grabbing me, her arms grabbing my back, and we just kept fucking and moaning, I was able to see her black Vans shoes grabbing my body from behind while I kept licking her tits and fucking her, kissing a lot as well. Then I just lay on the table and she started riding me on top, the most perfect position ever, me grabbing her ass, touching her tits and she just kept riding me, rubbing me with her pussy and body, I couldn't resist grabbing her ass while she continued to rub against me, she needed to ride on top of me I knew it because of how she was enjoying it. After getting it on like that, she cumm on top of me and had the most perfect orgasm, I was just about to finish so I lean towards put her on the table looking up and cumm all over her body. We kissed and she said I love you, then we head a door knock and scared the shit out of us so we started getting our clothes on again and just when we were doing that a coworker open the door and busted us finishing my fantasy promptly.
If you choose this to make a movie, I would be delighted and honored, I imagine it starting on the bus with flashbacks of our fight and then starting on our conversation in the training room, then when we get caught, the scene ends and it goes again to me on the bus ending the movie. This is very important to me and gave a lot of soul and heart to write this, there are really important details like the shoes and her long hair. Anyways, I enjoyed writing and hopefully, you can at least read it! Thanks, Erika, truly appreciate it.