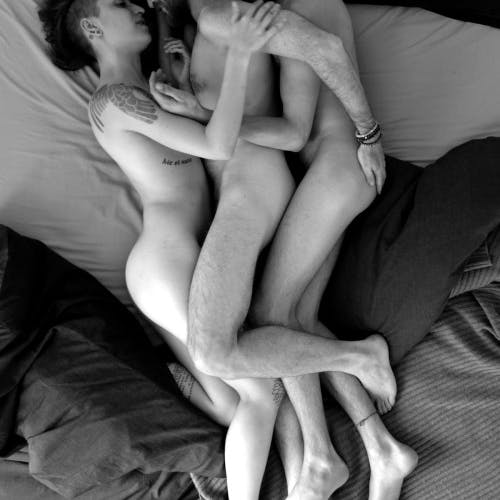 What a wonderful surprise
A Sexual Fantasy
I have dreamed of a night like last night since I was a little boy.
I was in a bar in Paris waiting for some friends. They were late so I ordered something to drink all by myself. I was the only person alone in the bar.
But soon I noticed a beautiful girl watching at me. She came to me and we started to chat. She was gorgeous with her red hair and her short denim skirt. She was very charming and I let her charm me.
For a while we continued this game. At a point she asked me if I liked surprises. I answered yes.
She took my hand and we left the bar as my friends arrived. We walked like that for several minutes. She was walking like a goddess. I stared at her curvy ass all the way.
Then we arrived at a door she opened. At her place I understood.
As we entered I heard a man's voice : "So you're home, how was your night sweety?". Surprise!
She answered him to come in the living where we stood. A fit and athletic man, with a Brazilian look arrived. He was surprised at first to see me, but my goddess started to kiss me. The man came at me and kissed me as well.
They put me on the couch as they undressed themselves. Their bodies were fit and nice to look at.
They kissed and touched each other while I sat there. The girl begun to suck him while he stared at me, moaning. My dick was so hard, I had to pull it out of my pants. As soon as they saw it, they came to the couch, and pleased me successively. The girl's mouth was warm and wet, and the man's tongue was wild and hungry.
All night long we shared a common goal: pleasure! The night took an end once I had jerked off for the third time.
It really was a wonderful surprise!