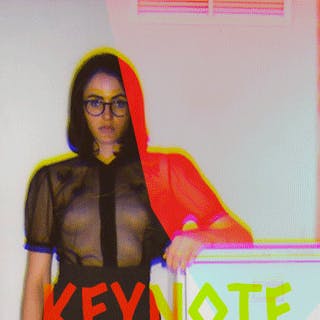 Keynote Address
A Sexual Fantasy
My lover and I travel everywhere together. He is a successful designer and I manage our studio. I also plan our parties. That's the real fun!
We recently went to Seattle to speak at an international conference. I made the most of my time planning a delicious party for us.
Once we arrive, we checked in and after a playful nap, he went off to prep for his talk. I kissed him good luck and whispered, 'Don't get held up tonight.'
That night I made my way down to the chic hotel bar where I met our guest, Scott. We had a drink and chatted getting to know each other beyond our month-long email exchange. He was loved my agenda. The cocktails and conversation were lively as Jay texted to say he was heading back. I replied I was in the bar with a friend. He walked in, we caught eyes and he proceeded to sit across the room. He ordered and watched my flirtations. I knew this was driving him mad with desire. He walked past; Scott had no idea who he was. Jay texted, 'he's hot! have fun!' and went to the room.
Shortly after, Scott and I made our way upstairs. Jay poured cocktails as I made introductions and then excused myself returning in a corset, hose and my most beautiful heels. We toasted then there was a knock on the door. I answered and Dana walked in. He was a stunning man. I kissed him and we walked into the room. The tension was intense; me and three hot men. Scott finally began undoing his pants and his engorged cock sprang out. Dana followed. I walked over, kissed them and knelt down taking each in my mouth. Jay's and my eyes locked. I knew he was on fire almost as much as I was. The guys stripped and soon we were all on the bed with me as the center of attention. Hands and mouths were everywhere, no boundaries. Touching, sucking, fucking over and over. At one point, I sat catching my breath and gently rubbed my pussy as the boys put on quite a show. An explosive orgasm, one of many! The night was organic and free, and all of our sexualities completely on display. I love Jay he never stops celebrating my sexual expression.