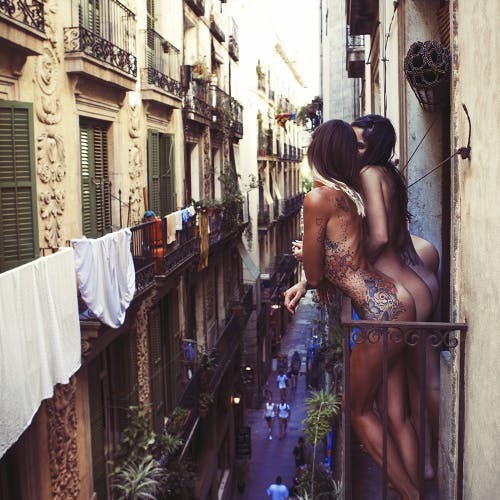 Good friends stick (and fuck) together
A Sexual Fantasy
I live with a friend and we love to hang out together.
One day we went to a party. I was with a boy that I always hang out with. We were kissing. My friend walked in, kissed both of us, and walked away. When we were going home, she kissed another friend of us.
I went home with the guy I was with, and she took her friend with her.
The guy I came with and I started having sex on the couch. We were going to the bed when we listened to her screaming in her bedroom, right next to mine. The guy I was with opened the door of her bedroom, pushed me against the wall and started fucking me there, right in front of them. It was amazing. Then, she offered her hand to me and I laid down in bed with her. We started kissing, having sex… all four of us. She was touching me and while we were kissing the boy I was with was fucking me from behind. We continued kissing, the guys' hands were all over our bodies. The guy I was with offered his cock and we both licked and sucked it together. It was delicious. I gave a blowjob to the other guy but he was a little shy with the situation, so we just kissed. Then my friend went to my bedroom with the guy I was with, and I stayed with hers. Once no one was around, he fucked me hard.
We could hear my friend howling in the other room.
The next morning my friend and I cleaned the house, put all the condoms that were around the house in the garbage, and just laughed of what happened.