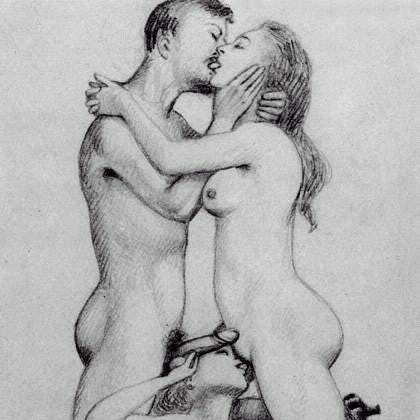 First time for everything
A Sexual Fantasy
My wife & I watch porn. Specifically threesomes (FFM). My wife has become intrigued by this but is too shy to ask. So I arranged for a stunning woman I met on the internet to be our first.
The plan was to take my wife on a dirty weekend. First night out we were at the bar and the woman met us there. She seduced my wife dancing with her & touching her intimately. I pretended not to know her. When my wife went to the toilet I told her my plan and gave her a key. She left kissing my wife on the lips before she left. My wife biting her lip stood there watching her leave. I was so turned on and so was my wife. We left the bar shortly afterwards. We couldn't keep our hands to ourselves all the way back to the hotel.
Getting back my wife slipped out of her dress revealing her sexy lingerie beneath. Blindfolding her I began my foreplay. Slowly kissing her all the way down to between her thighs she lay there gasping and pleading me to touch her. Just then my sexy friend slipped into the room. I moved out of the way as she undressed. I almost came as she slid between my wife's legs and began caressing her clit with her tongue. After watching for a while I helped our friend lick and suck on my wife's pussy. Noticing two tongues were bringing her to climax she removed the blindfold. She froze looking at me shocked but our friend slid up & kissed her. Still looking at me she began to kiss her back.
Spooning my wife I entered her as she gasped. Working her way back down to my wife's clit. It didn't take long for my wife to cum. Changing positions into reverse cowboy I quickly came inside my wife. Pulling out our friend began licking at my wife's pussy which caused her to cry out as she had her first multiple orgasm.
We lay there in a heap of bodies but it didn't take long for us to start again. Realizing our friend had not been pleasured I was surprised to see my wife began to touch and kiss her. I lay there wanking as my wife began to pleasure her. The rest is a blur of lust and fulfilment. What a night!