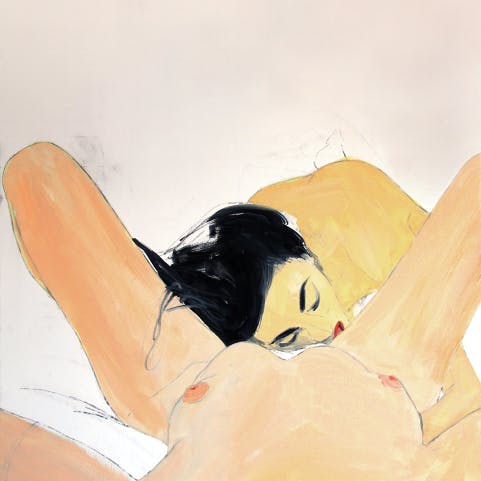 After her, I became myself
A Sexual Fantasy
When I was 17, I started Arts College. I was shy and I had many hangups that I hid behind a punk look. It was difficult to make friends and people I was comfortable with were social outcasts. The art history teacher was a passionate woman: the way she explained to us how Renaissance artists came to individuality and self gave me thrills. That feeling went on when she taught us how 20th century art was driven by senses and sex. During the lessons, she sometimes had an assistant, a doctorate student, and I could not help myself from wondering if they had an affair. One day, introducing Las Meninas, she glanced at me with shiny eyes. I couldn't know if it was the subject that made her intense, or if she could perceive that my thrills were becoming erotic, echoing the particular revelation of that painting.
That New Year's Eve, I was walking home after a disastrous night I had spent waiting for a rave party that never happened because of snow, when I saw them - my teacher and her assistant - laughing and embracing on the street. I didn't intend to stop but she called out to me  in a drunken voice "Happy new year mademoiselle!" I smiled happily back and she asked me frankly if I would enjoy having sex with both of them, as a present for him. After hesitation, I followed them to their apartment, discovering they were living together.
As soon as we were in, on their bed, she kissed and undressed me. She took her shirt off, revealing beautiful mature breasts. She raised her skirt (she had no underpants) and got on her hand and knees, while I lied down on my back. He dropped his trousers down and began to fuck her while she put her tongue in my mouth and massaged my boobs, with hands and nipples, making me hotter and wetter than ever. Then she turned her back to me, put her pussy on mine and rubbed. At the same time she was licking the sex of her boyfriend and taking him in her mouth. I came at the same time as my teacher, and we went on by switching our position: I gave my ass to the assistant (I was so excited), on my hand and knees myself, as I was licking my teacher. When he came, we girls were ready to come again, and we ended together in ecstasy.
We never did it again, and we stayed away from each other when we met at the college. But that made me self-confident, sensual, and broadened my mind to understand arts, world and people as a specular and erotic game.