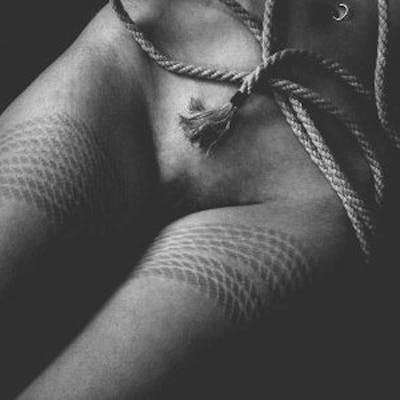 A New Experience
A Sexual Fantasy
While texting each other about sexual fantasies, my lover told me of her fascination with Shibari, the ancient Japanese artistic form of bondage. I looked it up and though I could not learn it in time for our next meet, I found it somewhat fascinating. For our next date, I took with me two silk ties that I hoped to use...
I would tie up her hands, making sure to run the tie across and top to bottom between her writs, doing the same with her feet, by her ankles, I then make her lie in bed, face down, bottom up with her knees bent and tie her wrists to her knees, making sure her perfectly shaped ass was pointing up, leaving her pink flawlessly shaved wet pussy in the perfect position to lick it first, then ensure my tongue went all the way in until I could feel her come, with hopeless movements of pleasure. Then and only then, grabbing her by the hips, I would push my cock inside her.
Slowly at first, but then pulling her towards me and burying my cock so deep I could feel the tip being fondled, with her almost screaming of pleasure kept asking me to fuck her harder...and I did...until she came - again, but this time I could feel her juices flowing down her legs, rubbing against me. I didn't stop - I continued to thrust my cock into her until I could feel my orgasm coming...I closed my eyes and relaxed every muscle in my body. By the time I was done, it felt like I had been coming for hours...and so did she.