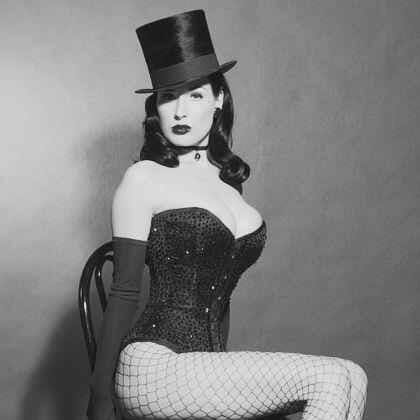 Welcome to Burlesque
A Sexual Fantasy
As a dancer I've performed a lot, but recently I joined a musical production about a burlesque club. I dance as one of the burlesque dancers. As I usually dance street hip hop style, I decided to do some research on burlesque dance numbers. But as you know with the internet, one thing links to another and suddenly I found myself watching a bunch of Dita Von Teese videos.
I didn´t  consider striptease as an art form until I watched Von Teese. Her movements are flawless as she doesn't even need to exaggerate her movements or facial expressions. She is simply sexy and classy.
I can't believe I'm saying this, but I'm actually amazed by her and those burlesque videos I watched. I now imagine myself on the stage, singing and dancing while stripping off all of my clothes with style, and I think I'll love the spotlight! All eyes on me as the lights bounce off the sequins on my costume, my eye´s sultry, lashes fluttering flirtatiously with the audience. All I have are feathers to cover my naked body as strut around in little heels.
I'm kinda turned on by that idea! So even if I never get to do it on stage, I'll definitely try it with my man very soon!