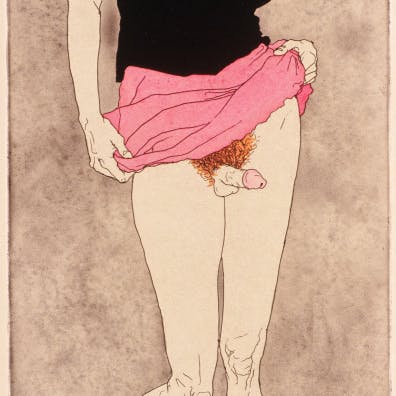 Vestidos para a Ocasião
A Sexual Fantasy
Vou agora no metro a caminho de casa, já é tarde da noite e na carruagem em que sigo vamos apenas três pessoas. Atrás de mim segue um alcoólico sem-abrigo e à frente uma silhueta que capta a minha atenção.
De vestido justo e gabardina, o rosto é escondido por um chapéu de abas largas.
Do local onde estou vejo pouco, mas apercebo-me de um par de mãos que me levam a pensar que se trata de um homem. Na fase da vida em que me encontro excentricidades assim deixam-me imensamente curiosa.
No último Natal recebi como presente um dildo e hoje decidi ir com ele posto para o trabalho. Senti-o todo o dia apertado nas minhas calças e agora sinto-o ainda mais. Decido mudar de lugar e observar de perto e melhor o ser que se apresentou perante mim.
É elegante, com um registo clássico e sóbrio que me agrada. Nos lábios um batom carmim reflete as luzes da carruagem e o cheiro que imana invade-me sem qualquer pudor. Ponho-me imediatamente a fantasiar.
Não fosse eu uma rapariga tímida, pegaria na sua mão e conduzia-o à porta já na próxima paragem. Levava-o a um canto escuro da estação e pedia-lhe para me chupar a pila erecta enquanto com as mãos me explorava o entrepernas e o cu.
Estar assim num sítio público, sob o risco de sermos apanhados em posições trocadas, deixa-me o coração acelerado e a cona molhada ao ponto de quase me vir. Depois disso, gentilmente faria com que se levantasse e subia-lhe o vestido.
Roçava-me toda nas suas costas, com intensidade, e a sua pila erecta e venosa ocuparia as minhas mãos frias e firmes. Inevitavelmente a minha pila penetrava-o ao ritmo do meu desejo e no momento em que o sentisse prestes a ejacular virava-o e faria com que o fizesse na minha boca.
Não engoliria. Dava-lhe antes a provar.
I'm going home on the metro, it's late at night and in the carriage there are only 3 of us. Behind me is a homeless alcoholic and in front of me, a silhouette that catches my attention.
In a fair dress and a raincoat, the face is hidden by a broad-brimmed hat.
From where I am I can see little, but I notice a pair of hands that lead me to think that it is a man. In this phase of my life I find that eccentricities leave me immensely curious.
Last Christmas I received a dildo as a gift and today, I decided to put it to work. I held it tight in my pants all day and now I feel even uncontrollable. I decide to change places on the carriage and observe more closely the being who presented himself before me.
He is elegant, with a classic look that I like. On his lips a crimson lipstick, which reflects the lights of the carriage, and his scent invades me without shame. I immediately start fantasizing.
If it were not a shy girl, I would take his hand and lead him to the door at the next stop. I would take him to a dark corner of the station and ask him to suck on the dildo while with his hands explored my crotch and ass.
To be like this in a public place, with the risk of being caught in a compromising position, leaves my heart racing and my pussy wet, almost to the point of coming. After that, he would gently get up and put his dress on.
I would him with intensity, and his erect and venous heap would occupy my hands, cold and firm. Inevitably my dildo would penetrate him to the rhythm of my desire and the moment I felt him about to ejaculate, I would turn him and make him do it in my mouth.
I would not swallow. I would give it to him first.