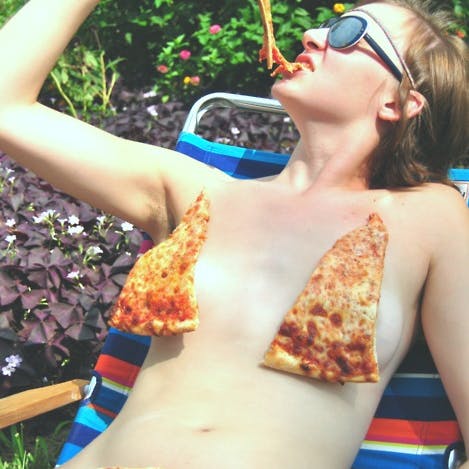 Sausage Lovers Pussy
A Sexual Fantasy
There's a cute girl working at the new pizza joint. She's got dark skin, a nose ring, and frizzy hair pulled up in a bun. Every ass is like a fingerprint, and hers is uniquely hot. She comes to work in yoga pants that look painted on. Her butt is a little big for her thin frame. Her bowed out cheeks—dropping lower on the outside than the inside—turn me on.
The last time I bought a pizza she was checking me out—as the cashier, of course. In my mind I jump over the counter and clear off the stainless steel table behind her. It's about the same length as her body. Convenient. She gladly lets me take off all her clothes. I get down on my knees to pull down those yoga pants and give that beautiful ass the light of day. I cover my hands in flour and knead my fingerprints onto her cheeks.
Before I can get her on the table she interrupts me. "The Board of Health stipulates that anyone making a pizza must wear an apron," she says. So I strip naked and grab the dirtiest apron I can find from the wall. When I finally have her spread out I tell her it's time to choose her toppings.
"What do you want in your mouth?" I ask. She stares down at the bump in my apron but surprises me with her response. "Oregano," she says.
I sprinkle it onto her wanting tongue. She wants red sauce on her cute little tits. I dab the marinara on her nipples and spread it into circles with a steel ladle. She wants garlic in her belly button. I crush fresh stuff with the press. And her pussy?
"Sausage, of course," she says. She pulls up on her calves so I can make a sausage lovers pussy. Then I devour my pizza girl.
I wash it all down with some Pinot Noir, emptying the glass into her mouth. She serves up her ass and I drench it in olive oil. It gets so slick that I can fuck her silly until she turns around with an impatient look.
"Sir, I still need you to sign the receipt," she says.