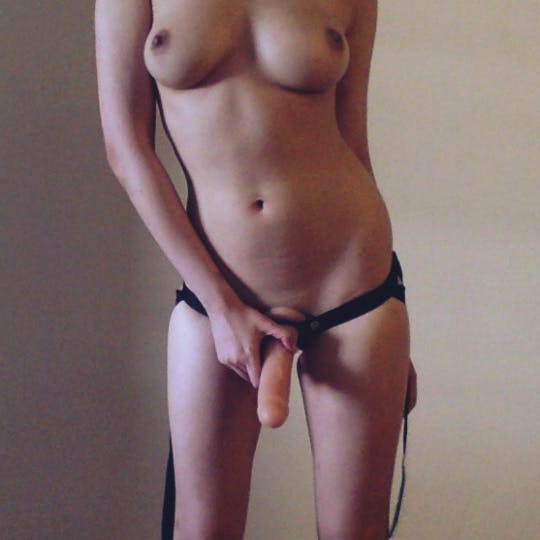 Real Pegging Fun
A Sexual Fantasy
My wife and I like to play with toys, we have a drawer full of them. There is one that we enjoy the most. It is our flesh colored Realdoe Slim.
Our fantasy play begins with gentle kissing and loving embraces, our naked bodies entwined. I move down, kiss and lick her beautiful pussy increasing her excitement and wetness. She watches approvingly as I gently slide the bulb end of the Realdoe into her pussy and look admiringly at her new 'cock'. We return to kissing pressing our bodies to one another and our cocks rubbing together.
Soon our hands are on each other's cock stroking them and then switch to masturbating ourselves. The friction of the Realdoe against her cilt stimulates her and excites me as I watch her stroking her cock. Again, I move down, this time to lick and kiss her cock. She watches lovingly as I take her cock into my mouth and suck it. She caresses her breasts and begins to thrust as I continue to pleasure her cock. The thrusting, the friction of the realdoe against her and my attention to her cock brings her to an intense orgasm. Once she starts several more orgasms follow, often with her reaching down and holding her cock with one hand and the back of my head with the other as she thrusts her cock into my mouth.
Her actions soon let me know that she wants to fuck me. Our favorite position is missionary as we can look into each other's eyes as she slides her cock into my waiting ass. The excitement of thrusting into me often brings her to another orgasm as I stroke my cock. The excitement of watching her pleasure and the pounding of my ass brings me to orgasm and just before I cum she withdraws from my ass and places her mouth on my cock hungrily taking in my cum. We collapse kissing and embracing, she awash with the power she says it makes her feel and me content to be her submissive lover.