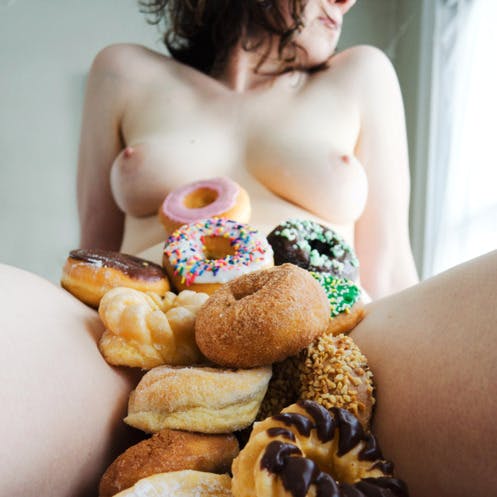 Powdered Cock Ring
A Sexual Fantasy
Every Friday I reward myself with a donut. Today there's someone new behind the counter at my friendly neighborhood donut shop.
"Powdered donut," I ask her with a smile.
"We're out," she says. "But if you wait five minutes we'll have fresh ones." I check my watch. She can tell I'm disappointed. "You want to see how they're made?" she asks.
"Sure," I say.
I follow her back to a warm room where a fresh batch of donuts has just come out of the oven. She picks up a powdered sugar spreader and goes to work. Her thin, black hair frays from her visor. She's wearing black yoga pants caked in sugar, crumbs, and frosting. As she leans over the rack, I see that her tan skin just above her apron is glazed with sweat.
I'm getting a little sticky.
When she's done she proudly slams the spreader down—too hard—on the counter in front of me. Poof. My face is covered in sugar. She laughs so hard—a snicker, really—that I feel I must retaliate. I dip my fingers in the spreader and flick sugar in her face. Things escalate from there and the battle doesn't end until the room is coated in sugar.
We're both a mess but laughing hysterically. She wipes some sugar off my eyebrow and sucks it off her thumb. I hesitate but then peck her on the cheek. She gives me a dry kiss on the lips. I give her a wet one. We go back and forth until we are licking each other all over.
She drops my pants to my ankles and picks out a donut. "It's finally ready," she says. It feels hot and moist as she squeezes it over my foreskin, trailing it with her tongue. When she's licked me clean I prop her up on the aluminum countertop. I rip off her pants, pulling off her pink Crocs, and she grips her bare feet against the slippery countertop. I bury my face in her until she is sufficiently sugared up.
I slide my cock into her all way down to the donut. The donut starts to crumble as I pound her harder and she manages to grab a handful before it falls to the floor. We share every last crumb and I finish her off with my Boston cream.