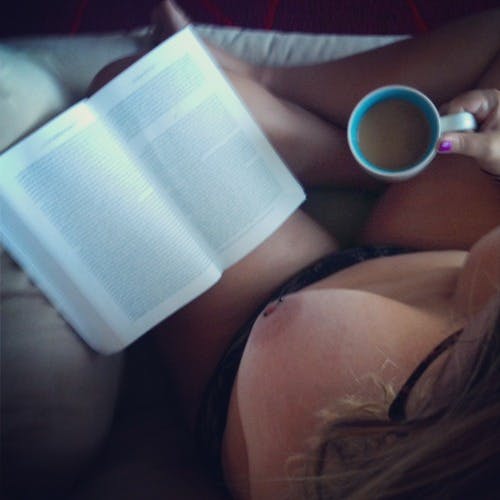 Latte & Lust
A Sexual Fantasy
Un soir d'hiver, je me suis résolu à vivre une aventure sensuelle dans un café érotique situé près de chez moi. J'étais craintif et je n'avais pas la moindre idée de ce que j'allais subir mais, après avoir lu les témoignages de plusieurs clients libertins et écouté les commentaires de quelques-unes de mes amies de mœurs légères, j'ai décidé de prendre mon courage à deux mains et de franchir le seuil de ce mystérieux café.
Il faisait un froid de canard en ce lundi de janvier. Lorsque je suis entré dans le café, une demoiselle m'a accueilli avec un grand sourire. Une fois attablé, l'élégante hôtesse m'a proposé de goûter au délice du jour. Quelques minutes plus tard, deux belles jeunes femmes légèrement vêtues se sont présentées à ma table, chacune avec une tasse de café à la main. Elles ont enlevé leurs sous-vêtements et m'ont invité à me mettre à l'aise et à observer leur spectacle. Les deux anges ont versé le café sur leur corps et ont commencé à s'embrasser, mettant ainsi en scène un fantasme que je rêvais de voir se réaliser depuis bien longtemps. Puis, mes deux compagnes se sont allongées sur le sol du café et m'ont demandé de prendre soin d'elles. Pour ne pas les décevoir, j'ai pris soin de caresser leurs zones érogènes, en m'assurant que ma langue n'épargne aucune goutte de café. Nous nous sommes amusés ainsi pendant une demi-heure, et cette aventure sensuelle m'a fait découvrir une tout autre façon de savourer un café.
One winter evening I resolved to live a sensual erotic adventure in a café near my home. I was apprehensive and I had no clue what I was going for, but after reading the testimonies of several libertines customers and listened to the comments of some of my (promiscuous) friends, I decided to take my courage in both hands and cross the threshold of this mysterious coffee.
It was freezing cold in Monday in January. When I entered the cafe, a young lady greeted me with a big smile. Once seated, the elegant hostess asked me to taste the delight of the day. Minutes later, two scantily clad beautiful young women showed up at my table, each with a cup of coffee in hand. They removed their underwear and invited me to put me at ease and to watch their show. The two angels poured coffee on their bodies and began kissing, it was a fantasy that I dreamed to see happen for a long time. Two others were lying on the ground and asked me to take care of them. I didn't want to disappoint them so I went to stroke their erogenous zones, assuring them that my tongue would save every eventual coffee drop. We had fun for half an hour, and this sensual adventure made me discover a whole different way to enjoy coffee.