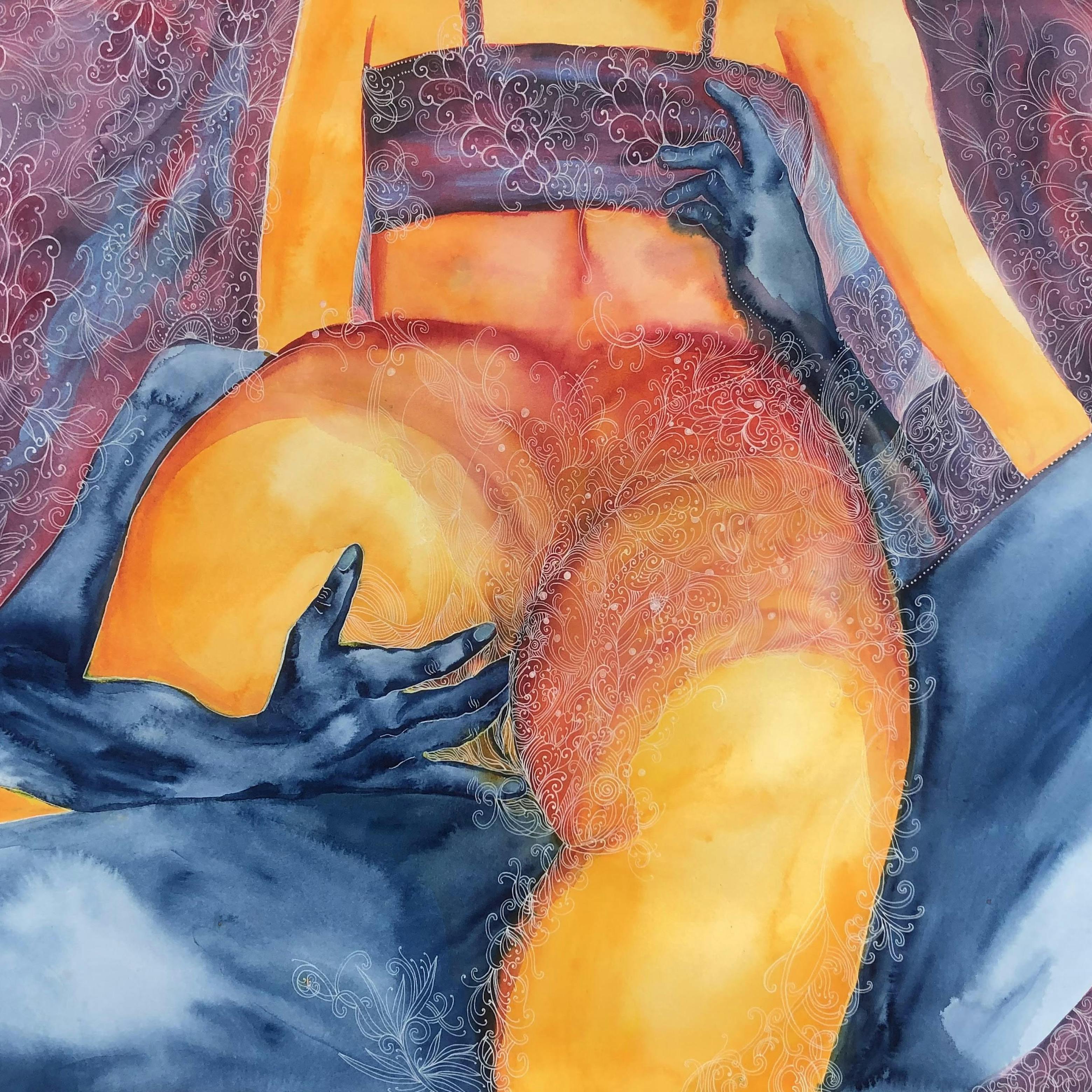 It Was the Music
A Sexual Fantasy
In a small, dark, warehouse-like performance venue my bff was releasing her first solo album. Already surging through electronic media, her songs were garnering praise from all corners of the artistic community. The room was dark except for the spotlights on her and the band. Amazing band, stirring everyone to a fever pitch of excited and aroused senses. It didn't help that she kept wailing the word "fuck" in the lyrics she was singing. Some of us were dancing, and like others scattered across the floor I was dancing alone. I felt so totally alive as the music pounded relentlessly, and I twisted my arms erotically above my head, grinding my body in overt sexual passion with a look of ecstasy on my face.
He later told me that was when he first saw me, writhing with myself among others who were equally caught up in the physical and emotional power of the moment. He smoothly made his way through all the dancers' twisting bodies to stand in front of me, standing close to me and looking into my half-closed eyes. He began moving his body in sync with mine, never touching, but our lower bodies and our asses were pushing and pulling in hyper-sexual fuck dancing. I was already so turned on, consumed by the pounding music and the heated eroticism of it all, that as we danced I was already giving myself to this unshaven, scruffy looking, muscular Adonis.
The music never stopped, but we could both feel the waves of desire roiling between us, and as he took me by the hand and led me to the door I never hesitated for even a second. I knew where we were headed, I knew we were going to fuck, and I wanted it, I wanted it like hell.
As we walked outside in the crisp freezing air I was so into the moment with him that it almost felt like we were already naked together, kissing deeply, heavily as our hands were sliding all over each other's body. All that flesh, his cock so fucking hard, his hands lifting my tits, feeling me, moving my soft breasts all around. And my sopping pussy. My wet pussy drenching my little panties and sending surges of sexual lust through my belly and up into my swelling chest.
He made love to me, and I came twice before he even started fucking me. Oh god, he kissed me, he sucked my sensitive protruding nipples so damn hard, pulling them and stretching them out with his lips. He ate me to an orgasm with my knees up and my thighs spread wide.
This fantastic hedonistic stranger fucked me out of my mind. I ground my ass and bit into his neck, urging him on. I humped my naked body hard with his stabbing thrusts, and after an eternity of fantastic sensual pleasure I felt him tighten as he groaned. His voice was desperate, grunting rough and growling and he was fucking me still, fucking my hole so fast and deep as I felt him cumming inside me.
He made love to me