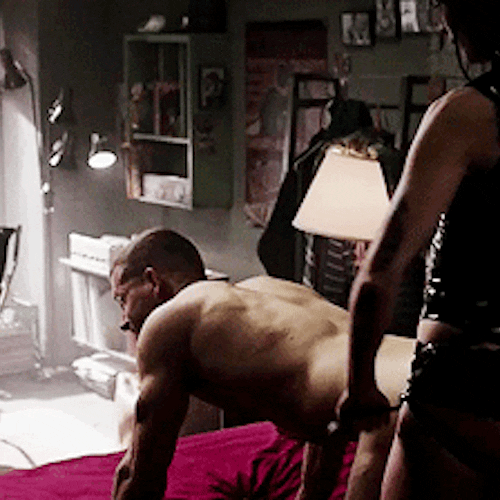 The First Time She Sodomised Me
A Sexual Fantasy
Después de cenar en su casa me había confesado que su mayor fantasía sexual siempre había sido sodomizar a un hombre, pero que hasta ahora no se había atrevido a confesárselo a ninguna de sus parejas. Esta noche, puede que debido al alcohol, se había atrevido a confesármelo. Yo había practicado el sexo anal con mujeres pero siendo yo quien las penetrase, por eso la propuesta de ser yo el penetrado me dejó fuera de juego. Puede que fuese por el alcohol, que yo también había ingerido en cantidad, que no me negué. Rápidamente, como si temiese que cambiase de opinión. que me llevo al dormitorio, donde nos desnudamos mutuamente, con cierta prisa por su parte. De un cajón del armario extrajo un consolador de cintura, como los que usan las lesbianas para penetrarse y se lo sujeto a la cintura. Después me puso a cuatro patas sobre la cama y me lubricó el ano con sus dedos. Cuando consideró que ya estaba bien lubricado se subió a la cama, se puso detrás de mí y me dijo que me relajase, las mismas palabras que yo empleo con mis parejas a la que nunca antes les han penetrado el ano. Acercó el consolador al ano y empezó a empujar poco a poco. Me volvió a decir que me relajase. El consolador entro totalmente en mi ano. Había dejado de ser virgen por ese lado de mi cuerpo.
Cuando estuve totalmente penetrado ella se puso encima mío y empezó a moverse metiendo y sacando el consolador de mi ano. Debo decir que la sensación no era desagradable al contrario me gustaba, pero no lo suficiente para llegar al orgasmo. Ella, ante esta observación me cojió el pene y sin dejar de moverse sacar y meter el consolador de mi ano, se puso a masturbarme, al principio suavemente luego fue aumentando la velocidad hasta conseguir la eyaculación...
After dinner at her house, she'd confessed that her greatest sexual fantasy had always been to sodomize a man, but that she'd never dared to confess it to any of her other partners so far. That night, maybe because of the alcohol, she had dared to confess to me. I had done anal sex with women but I was the one who penetrated them, so the proposal of being penetrated myself left me out of the game. Maybe it was because of the alcohol, which I had also ingested in large quantities, that I did not refuse. Quickly, as if afraid that I'd change my mind, she took me to the bedroom, where we undressed each other hurriedly. From a drawer of the closet she pulled out a strap-on dildo, like the ones that lesbians use to penetrate each other which tie around the waist. Then she put me on all fours on the bed and lubricated my anus with her fingers. When she thought I was well lubricated, she climbed onto the bed, got behind me and told me to relax, the same words I use with partners that have never tried anal before. She brought the dildo close to my anus and began to push little by little. She told me to relax again. The dildo completely entered my anus. I had ceased to be a virgin on that side of my body.
When I was fully penetrated she got on top of me and started to move the dildo in and out of my anus. I must say that the feeling wasn't unpleasant. On the contrary, I liked it, but not enough to reach orgasm. Noticing this, she took my penis in her hand and, removing the dildo from my anus, she began to masturbate me, gently at first then faster and faster until ejaculation...