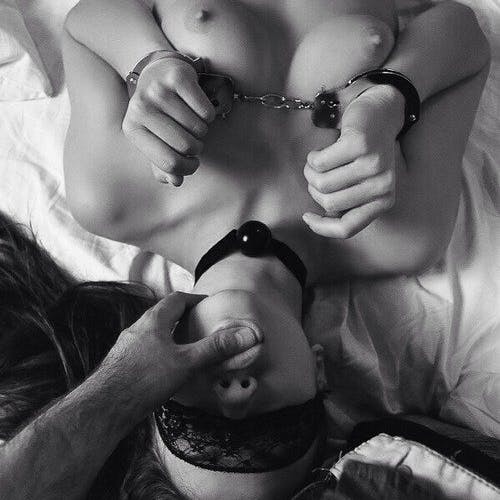 How BDSM saved our sex life
A Sexual Fantasy
Me and my wife kicked off with sex pretty much right after we hooked up. For some time, there were problems. She had a real hard time coming to an orgasm. Clitoral stimulation was the only way, it didn't always work and honestly, we've have had this stupid and possibly relationship-wrecking feeling that one of us is enjoying this more than the other one does.
Like in many cases throughout human history, severe interpersonal problem found its solution in copious amount of alcohol and a flash of bravery/madness. We were there, working ourselves up after several drinks, when at the beginning of foreplay my wife said "tie me up, maybe?".
"Oh, soft bondage" I thought, sure. I got a hold of some strip of cloth and obliged her request. To my curious surprise, she said I bound her way too loosely and delicately. She asked me to tie her to the bed. And to blindfold her. She never got a chance to make a third request, because I promptly filled her mouth with my dick while caressing her clit. She came like a thunder, throbbing and wailing. Twice. Now I had the feeling somebody has more of a joyride than I do. But that was a pleasant change.
We decided to roll with this. We found spankings, nipple clamps and wax a bit too rough/cheesy/off-putting, but all sorts of bondage, gagging, blindfolding and restraint working perfectly. We discussed the question why do we get so much pleasure from this. Apparently, for her - a M.D. at an emergency room by day and night, getting completely dominated, helpless and restrained is a fantastic relief from 200h of responsibility for human life and health she does per month. And I seem just to get a kick from having her wiggle under me while muffling something through a ball gag. I know, nothing original. But it works, and our sex life is now way better than it was before.
But excuse me, she's coming back from the store in few minutes and I can't wait until I make her swallow the 10cm long penis gag that just came in today in the mail.