The écouteur
by dieyoungstaypretty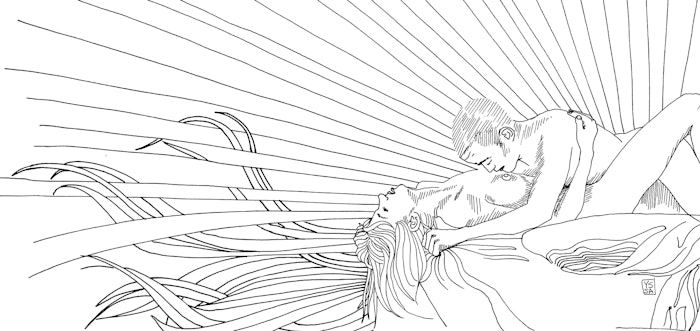 Image credits ↓
www.instagram.com/_y_s_s_a_
Based in Munich, this art-director finds in her pens and brushes the best escape from her daily corporate world. Her sketches, inspired by XConfessions, are made for colouring in. Yssa wants us to lose ourselves while filling in legs, breasts and ornaments.
Recentemente ho scoperto di essere ossessionato dai suoni del sesso. Nulla mi eccita di più che sentire il respiro affannoso, le bocche che si esplorano in un bacio bagnato, i corpi che strofinano uno sull'altro, i mugolii e le grida di piacere di un amplesso.
Come la notte scorsa; cercavo di prendere sonno e, complice il caldo estivo, dalle finestre aperte di un palazzo dall'altro lato della strada ho sentito una donna godere. Un orgasmo breve ma intenso, di appena pochi secondi, che tuttavia ha colpito così forte la mia immaginazione che è bastato mi toccassi appena per venire all'istante.
E dunque ho pensato a quanto sarebbe bello avere un aggeggio che permettesse di intercettare le voci di sconosciuti mentre fanno sesso. Infilerei le mie cuffiette e farei lunghe camminate solitarie, ascoltando persone di tutti i tipi pomiciare e strapparsi i vestiti di dosso; gente che si lecca in ogni angolo del corpo, che si soffia oscenità nelle orecchie, che si sculaccia; gente che dà e riceve ordini, che scopa e viene scopata; coppie sposate o amanti fugaci, ragazzi con donne mature, uomini mature con ragazze, coppie gay, singoli dediti all'autoerotismo.
Potrei sentirli e immaginarli tutti, tutta la città come un'orchestra impegnata in una sinfonia estatica, sino a che sopra a tutte le voci si alzerebbe un unico suono: quello del mio godimento.
Your Comments ↓