She made me cry and laugh and come so hard
by YoungHusband85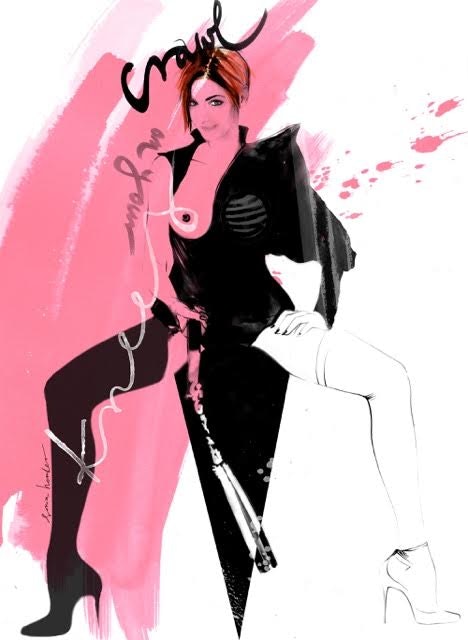 Image credits ↓
lapunani.com
Sonia is a fashion illustrator, but also loves to focus on the erotic. She lives and works in the county of Cornwall - a narrow, granite-strewn peninsula where the weather can change in an instant; perched as it is, on the southern-most tip of the British Isles. Her playful erotic works are mostly simple line drawings awakened by an (often literal) splash of colour and the occasional victorian-inspired flourish. She seeks to arouse, amuse and surprise in equal measure….
I was looking down on her red bright face and sweaty naked skin, with wanting eyes. What? she asked softly. You want me to finish you off?
No, I don't know if you have the energy but I want you to fuck me now.
Are you sure you want me to tie you up?
Please fuck my ass!
You wanted it, let's see how well you hold up.
She kisses me so quickly on the lips and jumps out of bed to get the strap-on. I haven't felt this happy since forever.
Now on your knees, let me see you begging for it!
And my smirk was met by her playful smile as she put one finger into my mouth and pushed me onto the bed.
I only remember pulling my bonds hard under the whip, moaning under her embrace while she was fucking me. I came so hard that I was still shivering afterwards. But then it was my turn to rest my head on her chest.
Was it how you imagined? I was a bit rough this time, does it hurt?
I still feel your gaze; it was perfect; I wanted to ask you this so bad.
That's how my fantasy feels for me, but most films out there are leather and very cold, they feel very distant as the sub and domina are both professionals. Also I prefer to look at submissive women because male dominators are more technical while dominas are more chatty, and the girls themselves are more expressive, moan louder and come hard.
It would be great to see my fantasy acted out.
Thank you.
Your Comments ↓