Perdidos en un trozo de paraíso
by Yaiza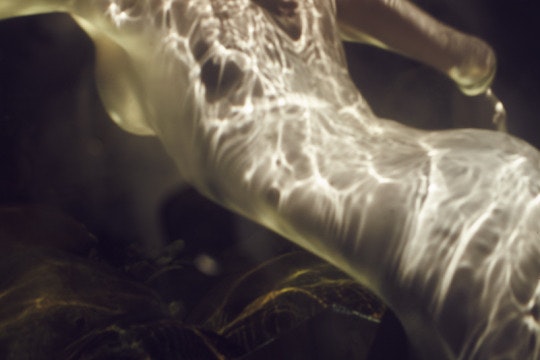 Image credits ↓
tumblr.com
In XConfessions we are thrilled to feature images from new pioneers of sexual imagery. We are not the owners of all images on this site, and owners are credited where they could be found. If you are an artist who would like to credit their work, or is interested in featuring your work on the XCONFESSIONS site, please email photo@xconfessions.com. If you are the owner or model of this photo, and would like it removed from the site, please also email the above address.
Mario y yo habíamos andado durante toda la mañana, perdimos la noción del tiempo subiendo la montaña. Estábamos agotados y empapados en sudor, fue entonces cuando escuche agua cayendo. Seguí en sonido y Mario me seguía a mi.
Unas pequeñas pozas de agua, un trozo de paraíso escondido. Me quité la ropa quedándome con el sujetador y las bragas mientras Mario me dedicaba una sonrisa. Me aproximé la orilla y le lancé una mirada juguetona, después de sumergí y salí rápidamente para mirarle mientras me mordía el labio. Podía notar su nerviosismo e intriga, así que decidí quitarme primero las bragas y lanzarse las a la orilla. Al ver que se acercaba para recoger mis bragas, decidí quitarme el sujetador y tirarlo muchas mas cerca, para que se aproximará a mi poco a poco.
Captó la indirecta y se desnudo lentamente mientras entraba en el agua, dejando su ropa junto a la mía. Nadó hasta alcanzarme y comenzó a besarme. Nos rozábamos lentamente, hasta que me sentó sobre sus rodillas, muy cerca de su miembro, frente a el para seguir besándonos. Entonces ocurrió. Lancé un fuerte gemido, y siguió y siguió, esta vez mientras me mordía los pezones. Poco a poco me acercaba a la orilla, me tumbó sobre las rocas y continuó sobre mí, lo hizo con profundidad mientras gritaba de placer.
No podía aguantar más, lo tiré al suelo junto a mi y me coloqué encima. Me movía con rapidez y el abría la boca de placer, cerraba lo ojos como si fuese a correrse y yo le cogí las manos y las coloqué sobre mis tetas para que pellizcara mis pezones. La pasión se apoderó de Mario así que me cogió mientras seguida dentro de mí y puso mi espalda contra un árbol. Cada vez mas fuerte y mas profundo y me corrí hasta que se corrió. Me dejo suavemente en el suelo y comenzó a besar mi vagina, a lamerla cada vez mas rápido mientras yo apretada su cabeza contra mi cuerpo ella. Empezó a utilizar las manos y me corrí, acompañado de un enorme gemido.
Subió hasta mi boca besando cada centímetro de mi cuerpo.
Your Comments ↓