Our Mirror Orgy
by Julie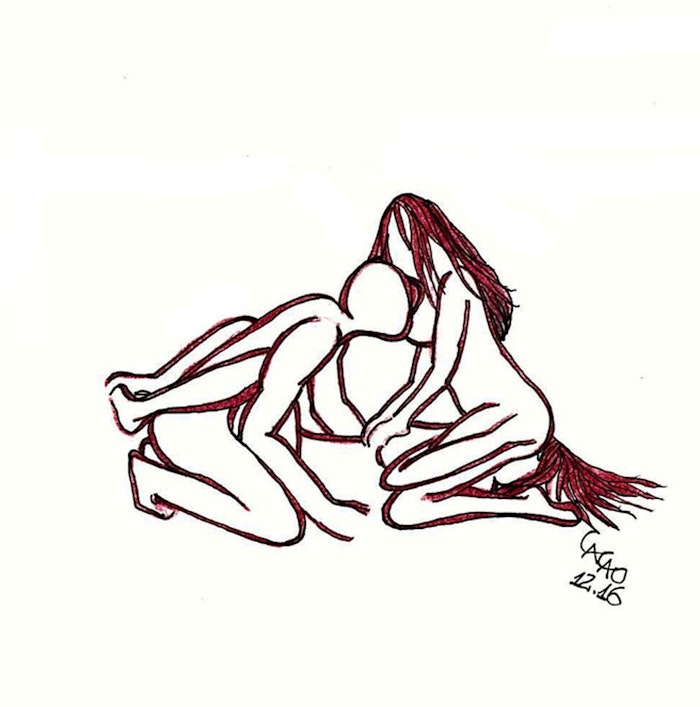 Image credits ↓
www.instagram.com/cacaosousa
Cacao, a Brazilian erotic artist, invites us through her provocative and sweet drawings to the naturalization and free expression of female sexuality.
Our fantasy... We live in an apartment block, and we get home from a night out clubbing and the one thing on our minds is ...being naked and fucking until dawn. We run inside out of the rain at the same time as 5 other couples who have been out too. Everyone is dressed revealingly for their night out, and we all laugh about being caught in the rain, even though we don't know each other really well we like who we see.
We all push the buttons for our floors and continue laughing and giggling about the rain, but everyone is really happy about coming home to .... :)
The elevator has all mirror walls and a mirror ceiling, and everyone is almost touching everyone else and we all can see each other hugging and waiting for the doors to open :)
Suddenly the elevator stops between floors and we're stuck. Oh no! We're all talking about being stuck and the guys start hugging their girls again. After a while one girl says how horny she is and another girl says 'me too !' She's wet from the rain and her nipples are really hard under her top. 'We could be in here for hours' another girl says, and her guy kisses her.
In all the mirrors everyone can see everyone else, and we can see guys hands squeezing their girls boobs and getting their cocks stroked through clothes.....but not for long.
We are kissing and I pull the top of my red dress down and my guy starts sucking my nipples. Soon everyone has their tops off and in the mirrors you see all the guys cocks are hard inside their boxers while the girls fondle them. Then everything comes off, and all the different coloured clothes are laying on the shiny floor and the mirrors are full of smiling faces and naked bodies wrapped around each other. Everyone is touching and laying over everyone else and soon all the reflections are all full of hard cocks, legs wide open, tongues stroking clits, guys sucking girls wet nipples and girls biting guys nipples while their cocks get harder, gasping lips, bouncing boobs and guys hips....
Thats our fantasy and we're waiting for the lift to stop :)
Your Comments ↓