Nudist Swimming Pool
by Palex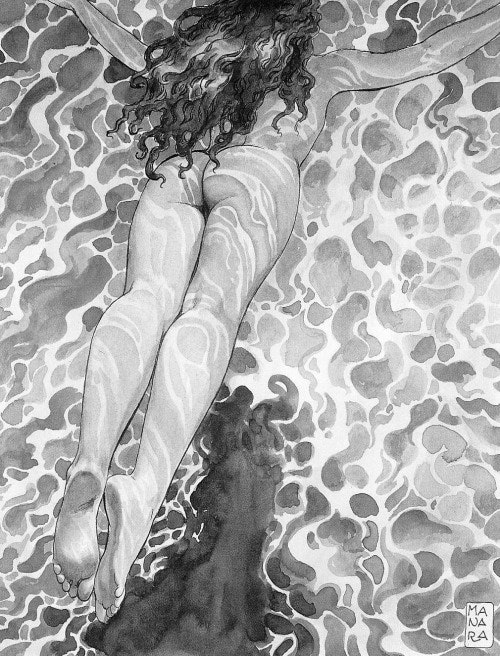 Image credits ↓
www.milomanara.it
Milo Manara is one of the most renowned erotic artists of our time. Still active, he is a master for many illustrators and comic artists, though his influence can be spotted beyond, in films, fashion and advertising. He states "I draw to tell stories, I draw because it's my job, I draw for fun, I draw because of the passion I feel for it: in the end, I draw because I belong to the human race and I can't help but do it…" Among his most renowned titles are 'Click', 'Le parfum de l'invisible' and 'The Adventures of Giuseppe Bergman'.
I was staying at a rural hotel with a clothing-optional swimming pool. It was a quiet afternoon, birds singing, just me and one couple lying in the garden enjoying the sun, in the nude.
Another couple arrived and stripped. I tried not to stare at the wiggle of her hips and the jiggle of her breasts as she stepped down into the pool. And I saw how deeply tanned she was, all over. How much time must she choose to spend nude outdoors? Thinking about that made my cock swell and climb up my thigh. I wondered if I should hide it, but the atmosphere was so peaceful and free that I just let the hard-on happen. The fact that anyone could see was crazily exciting. My heart was crashing in my ears, my cock now so hard that it bobbed with every heartbeat.
Anyone could have seen, and in a moment they did. I heard the woman in the pool exclaim and saw her nudge her boyfriend to look at me. They were grinning, their hands all over each other.
I closed my eyes. When I opened them again, they'd gone. But I had a feeling they were up to something, so I wrapped a towel round me and wandered back to the hotel.
The fucking sounds reached my ears before I even got to the front door. It was shockingly loud. I walked through the deserted reception and upstairs - and there they were, in the hallway, fucking openly. They were making an X, sitting facing each other, leaning back on their hands. I dropped my towel and asked "puedo mirar?" - "can I watch?" She smiled, said "siiii", and pushed her cunt towards her man so that his cock disappeared inside her once more.
She whispered to him, he nodded, and I felt her fingers gently trace over my erection. They changed position and she bent over with her head in my lap, while he pushed into her from behind. Her hot hand moved up and down my shaft, her wet mouth on my glands, those tanned breasts shaking with every thrust, until, dizzy with arousal, I spurted all over my chest.
They went back to their room for more fucking while I showered. Later that day, I left the hotel and gave them a happy wave goodbye.
Your Comments ↓